Five hundred years ago, Pope Julius II asked Michelangelo, "When will you have my Sistine Chapel finished?", to which Michelangelo replied, "As soon as I can!". The Pope, in angry frustration, struck the artist's head with his holy staff. Centuries later, international trademark owners and practitioners are now experiencing the same frustration as Julius II when Myanmar's new Trademark Law is concerned. When will its implementation start? The best answer anyone can give at this point is, "It will start when it starts".
Myanmar enacted its first law governing trademark rights (the "new Law") on 30 January 2019, but its implementation is delayed until the implementing regulations and necessary public service infrastructure are in place. In late November 2019, the Myanmar authorities announced plans for a six-month "Soft Opening" – a transitional period during which only applications for re-registration of trademarks that have either been previously registered via Declarations or been in continuous actual use in Myanmar. Thus, on Day 1 of the new Law, "Soft Opening" conditions will apply. The actual date for Day 1 of the Soft Opening under the new Law was widely (and erroneously) thought to be either 20 December 2019 or 1 January 2020. As of 26 January 2020, the date for Day 1 is yet to be decided by Myanmar authorities.
Despite serious uncertainties, we at ILAWASIA have been riding the waves, and below are our vetted updates on Myanmar's Trademark Law to help you prepare for the coming deluge.
NOTES ON THE DRAFT TRADEMARK RULES
On 19 December 2019, the Myanmar Department of Intellectual Property ("DIP") held a consultative seminar in Nay Pyi Taw. Our Myanmar team, in attendance, was informed of progresses the DIP made towards implementing the new Law. Importantly, the DIP shared its latest draft of the Trademark Rules – the implementing sub-legislation that will govern the new Law's practical implementation. The draft Rules have been made public with an invitation for all concerned to submit their thoughts and suggestions. The open consultation remains open to-date.
Perusing the latest draft Trademark Rules, we see a sophisticated and modern trademark protection system in the making. The draft Rules cover highly specific issues such as transfer of trademark ownership through a merger and recordals of partial licenses. While attention to detail is evident in the draft Rules, several matters remain problematic, e.g. several inconsistencies in deadline calculations, official fee payments and requirements for appointment of local agents.
The DIP, like Michelangelo, still constantly repeats that the final version of the Trademark Rules will be announced during the Soft Opening. However, the draft Rules and updated information we have in hand now enable us to rationally gauge what is soon to come and provide our comments below, with which we hope to ease your concerns.
DAY 1
The date for Day 1 could be postponed as far back as April 2020 due to the burdensome preparations that the DIP must make for a fully-functional system. Examination Guidelines for the new Examiners are still in the drafting stage as well as the list of official fees. Only the official forms are ready at this point.
Given the DIP's rate of progress, we believe that the earliest possible date for Day 1 will be in March 2020.
SOFT OPENING
The six months from Day 1 will be the Soft Opening period. Our summary of the draft Rules concerning the Soft Opening is shown below:
Applications filed during this time must be accompanied with documentary evidence showing that the subject mark has been registered at the Office of the Registration of Deeds in accordance with the Registration Act. Additionally, any documentary evidence showing that the subject mark has been in actual use in commerce in Myanmar may also be submitted.

If the evidence of previous registration submitted under 2 above shows a different mark owner's name (i.e. if assignment has occurred but not yet recorded, and the Assignee applies for re-registration of the mark during the Soft Opening), the Examiner would notify the applicant to supply further evidence and/or explanations.

In case of other inconsistencies between the previous registration and the new application, the Examiner would also notify the application to supply further evidence and/or explanations.

Only those who have filed an application during the Soft Opening may file an opposition against other marks applied for during the Soft Opening. This rule on standing also applies to the cancellation procedure.

The Filing Date for an application filed during the Soft Opening will be the actual date on which the application and all required documents are filed.
STANDARD REGISTRATION PROCEDURE
The following shows standard trademark registration procedure both during the Soft and Grand Openings: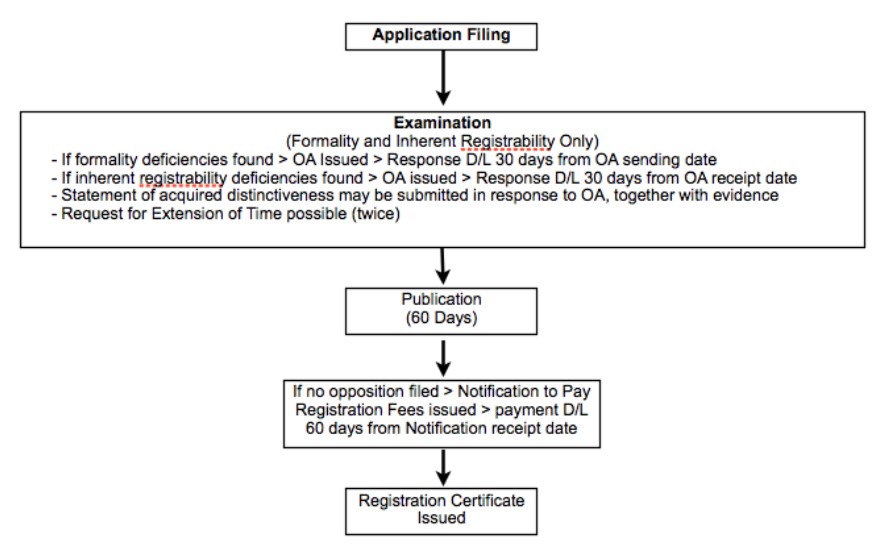 Notes:
Application revival possible

Division of applications possible

Correction of clerical mistake possible on condition that such correction does not involve changes in the mark itself or enlargement of the goods/services claimed

Application withdrawal possible

Amendment for limiting lists of goods/services possible

Opposition possible, but platform for publication not yet determined

Complex opposition procedures similar to other jurisdictions

Many variations on deadline calculations for different types of response filings and payment of official fees

Post-registration amendment recordals possible
EXAMINATION OF SOFT OPENING APPLICATIONS
Soft-Opening applications will be examined according to the Law and Rules. The DIP sets the benchmark for examination time at 12 months, which will involve formality and inherent distinctiveness assessments only. Mark examination on relative grounds will not occur unless its registration is opposed within the publication period.
As aforementioned, only those who have filed an application during the Soft Opening will have standing to oppose other Soft-Opening applications. Such an opposition would involve two parties each claiming the right to its respective mark. To decide which party has the better right, the Examiner will give weight to a party's evidence showing earlier, longer and more extensive use of its own mark. Thus, the most cautious mark owner would begin collecting use evidence for its marks now, in order to be prepared for any possible opposition filed against its Soft Opening applications.
APPOINTMENT OF REPRESENTATIVES
While the DIP is considering to require that all appointment of representatives be filed through the infamous Form 2A. It is not certain yet whether this Form must be signed by the Applicant itself and notarized. If it ultimately must so be, this would represent another burden for future applicants in addition of having to provide a signed and notarized Power of Attorney (POA). The fact that the Form 2A is has not been published may lead to clients worrying they may not be able to file for their marks immediately on Day 1. However, as things stand now, late filing of the representative appointment documents would be allowed up to 30 days from the application filing date. Thus, if any further requirements are ultimately set in this regard, it should not impede early filings of new applications on Day 1 or shortly thereafter.
OUR SUGGESTIONS
All marks previously registered through Declarations of Ownership must be re-registered under the new Law, and it is unclear what residual rights would continue to subsist in the registered Declarations once the new Law takes effect. Thus, it is advisable that all your clients who hold registered Declarations re-file for their marks during the Soft Opening. For clients who do not have a registered Declaration or in cases where the original Declaration or a scanned copy thereof cannot be located, filing during the Soft Opening would have the advantage of an earlier filing date. In other words, there is value in taking advantage of the Soft Opening for everyone.
Given the above, we recommend the following actions:

At this juncture of complex uncertainties, we believe it is vital for mark owners to act with caution, protecting themselves against possible risks.
As further updates on Myanmar's Trademark Law becomes available, we will certainly keep you apprised of any future developments in its regard.
Should you need further information on protecting trademarks in Myanmar both under the current practice and the new Law, please do get in touch.
For more information, drop us a line at IP@ilawasia.com
THE AUTHORS